Um, was the rainy season, was it there?
…I felt like It was getting away early,
Hot days continue but I wish you all a healthy.
This time, it's an introduction of a clay art that printed on a the LED advertisement signboard.
Do you know the shop of the cataloghouse?
My clay arts printed on the LED advertisement signboard about the new renewed Osaka shop.
This was posted at Dojima underground shopping area (dotica) from this July.
In Tokyo, it seems to be posted on the Oedo line station in Shinjuku too.
I made miniature of popular items of Tsuhan Seikatsu, Balance chair, two-handed pot, Makita's turbo (vacuum cleaner) and medical pillow.
Balance chair is cute, so I was fun to make it a miniature.
This is a snap in progress.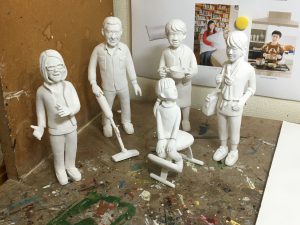 Cataloghouse shops that we can choose while watching or touching products,
It's a peaceful and pleasant everywhere, please come and visit.
And those who live in Osaka,
I'm glad if you can see the LED advertisement signboard at Dojima underground shopping area (dotica)!